Specialist Period Building Surveyors
Call on 01785 500 501 or 0800 880 6024
As chartered surveyors, we have years of experience dealing with properties of all shapes and sizes across Brownhills and Staffordshire. But not all buildings present an equal challenge. As a structure gets older, it becomes more susceptible to building defects such as damp ingress, warped timbers, structural movement and various forms of wood rot. These problems, amongst many others, can be hard to spot, expensive to rectify and potentially devestating to a property purchase or sale.
As such, we offer our expertise to clients in Brownhills looking to purchase an old, period or listed building - to help them uncover the secrets their new home is hiding, to plan for the future and to negotiate a reasonable purchase price.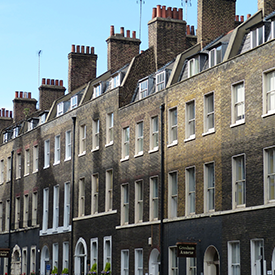 Property surveys come in many sizes and prices, with reports available to suit all kinds of property. We take pride in being able to offer a bespoke range of services, to help you go through the purchase your new home, without the fear of discovering serious defects weeks after you have moved in.
The surveys for listed and historic buildings are exclusively carried out by the Managing Director of Right Surveyors Staffordshire Ltd, David Roberts, himself.
David is a specialist chartered surveyor who has operated in the property surveying industry for over 16 years. You can read about his professional work below:
Meet our period building specialist
David Roberts MRICS
A chartered building surveyor of more than 10 years post-qualification experience, David started his career with an honours degree in valuation and surveying from Staffordshire University. A Staffordshire man all his life, his surveying career to-date stretches out over 16 years in the local property industry - assessing properties of all types, shapes, values and sizes. With years of experience behind him and a wide surveying portfolio, David provides a reliably accurate and thorough surveying service. He is passionate about conservation and preserving period buildings, leading to a particular interest in historic building surveys and assisting clients who are keen to move into a characterful old structure.
Why choose David as your surveyor?
A passionate, approachable property consultant
Competent, professional member of the Royal Institution of Chartered Surveyors
Years of experience working with old, period and listed buildings
Hours every year spent keeping up to date with the latest conservation techniques
A strict ethical code of conduct and professional integrity
Tailor-made reports for period & listed buildings
A good surveying company doesn't offer a single service, but several options - to suit each client's budget, property and timeframe. Unfortunately, some services - like the RICS HomeBuyer report and RICS condition survey - are template-based and therefore too restrictive for an old or complex building. These sorts of report should be avoided when considering an older property in favour of a bespoke inspection which allows the surveyor the time to investigate properly any serious issues found on site. The Right Surveyors in Brownhills offer the following bespoke services specifically designed for older structures:
Full Building Survey (FBS)

The most comprehensive, detailed survey format available for an old property.

House Purchase Survey (HPS)

Based on the Full Building Survey above, but delivered in a more concise way with less intricate detail

Major Elements Survey

Similar to the HPS above, but omitting aspects which aren't structurally significant - like decorations and joinery.

Single Fault Assessment

A letter-style report focusing in on just one problem or element of the property - often useful for insurance claims.